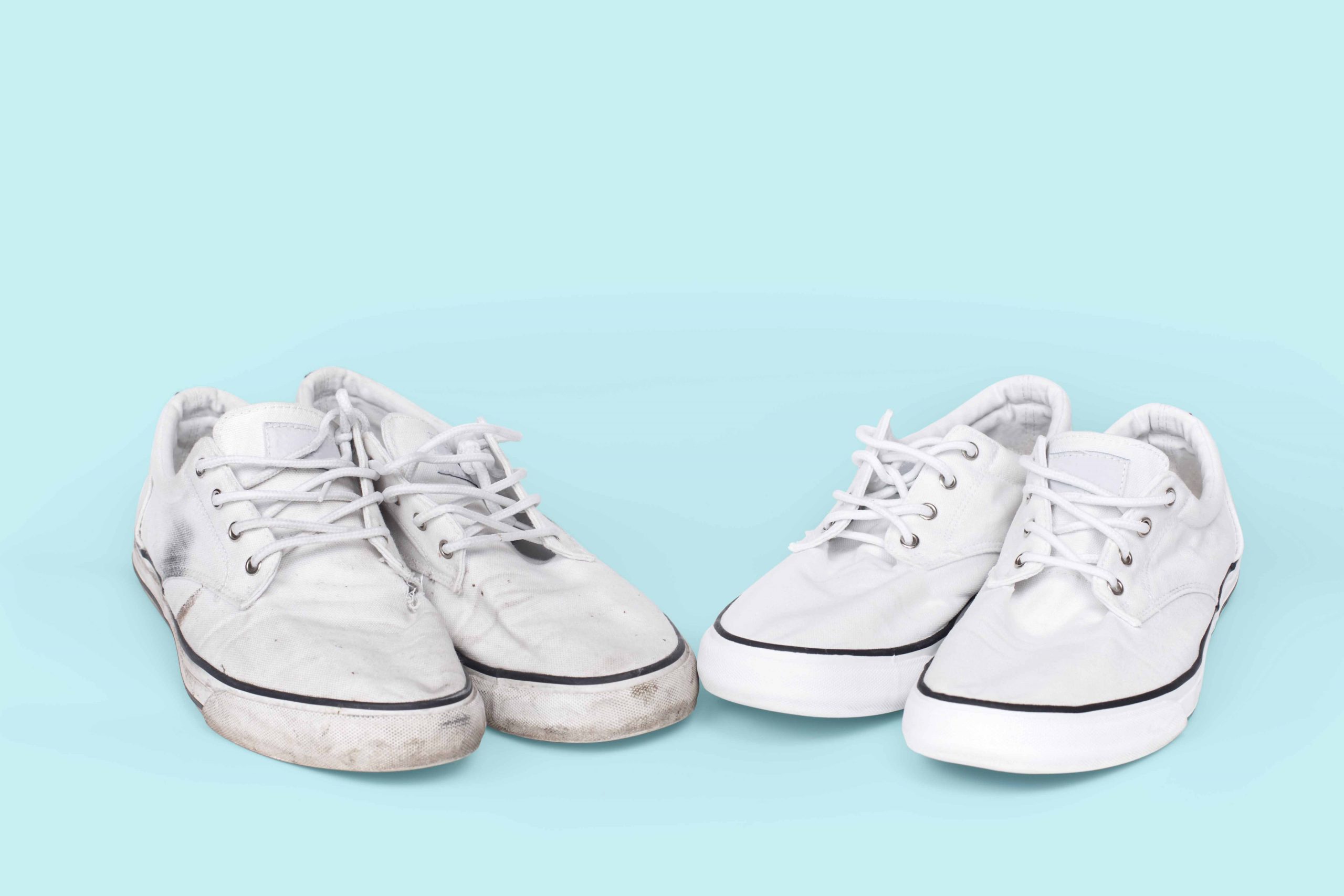 Whether it's cotton, nylon or mesh materials… It's hard to avoid white fabric shoes losing their radiant look at some point. But don't worry if you notice dirt, stains and annoying discoloration on your bright sneakers. We'll show you how to clean your white sneakers and get them clean again quickly. From the sole to the laces!
Before you start, it is best to take out the shoe laces. You can clean them separately.
1. Dry brush shoes
30 seconds/shoe
The first step is to remove surface dirt and dust from your fabric shoes (preferably outdoors) with a dry shoe brush. Feel free to go over the entire upper and midsole with vigorous brush strokes to really thoroughly remove street dirt.
2. Moist shoe cleaning
60 seconds/shoe
Next, it's a matter of loosening deep-seated dirt and stains from the fabric of your formerly white sneakers. Especially when we clean white sneakers, special care is required. Because experiments with home remedies can lead to undesirable results.
Sneaker cleaners that have been specially developed for this application work most reliably and quickly on the many different sneaker fabrics (from microfiber to natural cotton): All you need to do is spray the upper material and midsole with it, let it act for a short time and then scrub carefully with a damp brush. Afterwards, you can simply wipe off the foam, including the dirt, with a Chamois cloth.
Let the shoes dry well in the air before you put them on again!
3. Clean shoelaces
Unlike sports shoes, you can easily wash shoelaces in the washing machine. Alternatively, you can soak the laces in a container with water and detergent and then wring them out.
Our pro trick for those who don't want to waste time:
Spray the shoe laces generously with sneaker cleaner and knead them well with glove-protected hands. Afterwards, you can remove the excess foam along with the dirt by pulling the laces through a beaten kitchen towel.
Watch out for the yellow tint!
Now that your white sneakers are sparkling clean again, you should also impregnate them to protect them from new dirt. Anyone who has tried it knows: washing white sneakers in the washing machine is not a good idea. Even at a low wash cycle, the glue in the shoe can come off and discolor white fabric shoes in particular yellow. Therefore: sneakers prefer to clean gently and with the right care products to avoid nasty surprises.